Batterie Magazine Test, November 2019, Fabien NemplasseOffset Eclipse Double Bass Drum Pedal
The center of the Groove!For more than fifteen years, Offset has specialized in the manufacture of double bass drum pedals offering a particularly original structure, which combines two doubles in one, around a central bridge. Designed to provide a better playing position, it also allows to completely change the structure of the kit, to give it a totally symmetrical architecture... The Eclipse, the latest model in the range, is the ultimate in this ingenious and original concept... A little double will do us good! The story of Offset begins in the early 2000s, when Charles Fisher, a drummer by trade skimming small clubs with his various bands, launches into Southern rock and decides to go to the double bass drum to send double hook well Hairy. And there, good surprise, the central position of the toms in front of the snare drum transforms his life! The planes are more fluid, and the more comfortable posture seems to improve energy and endurance... What happiness! Except that walking around with two bass drums is not always possible and that the double pedal is then much more convenient. But there, discomfort, because the symmetry is destroyed and we find ourselves completely wrong! So how do we find the feeling of our two big favourite drums? Well simply by creating a symmetrical pedal! Charles buys two double pedals that he tinkers with, and the trick is done: a sole on each side of a central bridge where the bats are placed. The result is magical, especially since the very short cardans do not seem to affect the direct feeling of a simple model! The Offset pedal was born and made its first appearance at the Namm 2003. Since then, several versions of the invention have emerged, until, last year, Mountain States Distributing bought Mr. Fischer's patent and decided to launch the Eclipse, a new model that seems to have found the perfect equation: simplicity, ergonomics and precision... So let's see how we got to this point! It's heavy!As soon as we recover the cardboard containing our precious machine, we realize all of a sudden that it is not a small matter! Particularly heavy (more than seven kilos!), the latter actually puts us right in the mood: this Eclipse is total! And indeed the first manipulations and fixtures confirm the prime impression: Offset took things seriously in terms of construction and finishing.The pedal is massive, and all its mechanisms are of substantial size, ensuring an impeccable structure, as well as a flexible but dense movement, totally silent and extremely sensitive. All settings are accessible, and the size of the dials ensures a convenient and pleasant grip.On the finish side, no frills, with a single lightly textured gray color for all non-mechanical parts, and immaculate stainless steel for all others. Only the plinths are a little cheap, in terms of cut-out and look, but are nevertheless perfectly wide, and have Velcro strips and spades for unconcessional grip and stability. We feel here that the main concern is efficiency and not aesthetics. This does not prevent the pedal from being quite elegant, in a muscular style ... And then, let's point out that we were spoiled with a touch of red and black on the Eclipse logo sported by the soles ... The icing on the cake! Comfort and fluidityThe grip is up to the good surprises of departure. The soles are wide and comfortable, and worthy of providing a comfortable seat to all possible sizes, whether playing flat heel or with the tips. In addition, we appreciate a perfect rigidity of the pedal thanks to its flawless attachment with the bass drum. Indeed, the system of attachment to the circle is particularly ergonomic, because not only does one have a large butterfly off the right side, which offers an easy, fast and comfortable grip, but it also discovers that the upper part The clamp is articulated on a horizontal axis, which allows to adjust precisely on any type of circle, and without any twisting. Thus, the base is perfectly flat, and provides the essential seating for the double game.From a sensational point of view, we find all the definition and fluidity of a pedal without cardan. Indeed, their limited section, but also their perfect machining, allows a better translation of forces and ensures an ideal comfort of play, much more direct than that of a classic model, where one always feels a small latency, and above all, a Clear difference between the right foot and the left foot: an excellent point! Note here that the cardans have two tightening nuts at their end, but these are not placed online, as on most models on the market, but at an angle of 45 degrees, which allows better maintenance of the connecting rods.
All possible settingsThe Eclipse is designed to provide all the adjustments needed to easily adapt the different mechanisms to each person's playing styles. Thus, the gable that directs the heavy double chain of transmission has an elongated design and a pivot system that allows to choose from a wide range of more or less fast and direct responses to the movement of the sole. In addition, the bats can be oriented in a totally flexible way thanks to a free deaxing on the axis of rotation, ideal for choosing the desired running length. Note that the latter are equipped with a double felt and plastic striking surface, and equipped with a heavy sliding counterweight, allowing in turn to refine the kinetic acuity of the strike. Finally, last but not least, the pedal can be converted to direct drive mode in two key rounds, thanks to a kit delivered separately, including the two articulated metal arms necessary for the operation. A revolution on the move?Undoubtedly, it's a little weird to be in front of a totally symmetrical kit for the first time in his life! The snare between the two toms, just in front of the bass drum, leaves us a little disconcerted in the first few minutes, but the really facial seat is on the other hand very quickly fundamentally pleasant. We really feel like we have a better command of the geography of the set, and we soon enjoy the very direct feeling provided by the positioning. The charley itself is more easily adjustable, provided you have a model with a steerable base or a bipod... In short, we end up wondering how we could do before the Offset! On the sound side, we also appreciate the perfect equivalence of the two bats, and their unilaterally symmetrical placement in the center of the skin, which ensures a perfectly identical and regular attack. Undoubtedly, for the studio, this configuration will allow for better recording and a great homogeneity of sound, often important for fast ostinatos. Finally, with a little customization, like the addition of a second low tom and a second charley, we can have two sets under the baton, and without changing places! Well, be careful not to end up like Terry Bozzio! ConclusionBy offering a fully symmetrical double pedal model, which can be used by both a right-hander and a left-hander, Offset triggers a revolution in the design of the drum set. Thus, thanks to the positioning of the snare drum in the center of the two soles, just in front of the bass drum and between the two medium toms, the kit unfolds in a totally straight way in front of us, allowing us a more stable seat, without any twists or tension of the back. Add to this an impeccable mechanics, supple but assured, a more homogeneous sound of the two bats, due to a better balance of sensation of both feet and a really central positioning of the bats on the skin, and we end up being basically seduced by this original and definitely innovative invention.
Sweetwater, Nick D'Virgilio reviews OffSet Double Kick Pedal, August 2019
Modern Drummer, December 2018 - PRODUCT CLOSE-UP
OffSet
®

– Eclipse Double Pedal

A symmetrical design for more ergonomic setups.
According to OffSet, the conventional double pedal design, with a secondary pedal extending off to the side of the primary pedal, fails to account for comfort and ergonomics. In response to that concern, OffSet has designed a bilateral double pedal that aims to put the drummer's body in a safer and more efficient position.
Drummers who struggle to find a comfortable configuration for their kits will understand the issue that OffSet is tackling here. Adding a double pedal to a drumset can really throw things off—oftentimes you're forced to alter your hi-hat, bass drum, and tom placement, potentially resulting in a setup that's in a constant state of flux. OffSet's bilateral pedal features a fully adjustable design that allows you to fit the pedals into your current configuration with minimal alteration. For review, we received a chain-drive Eclipse model double pedal, plus a direct-drive conversion kit. Let's take a closer look.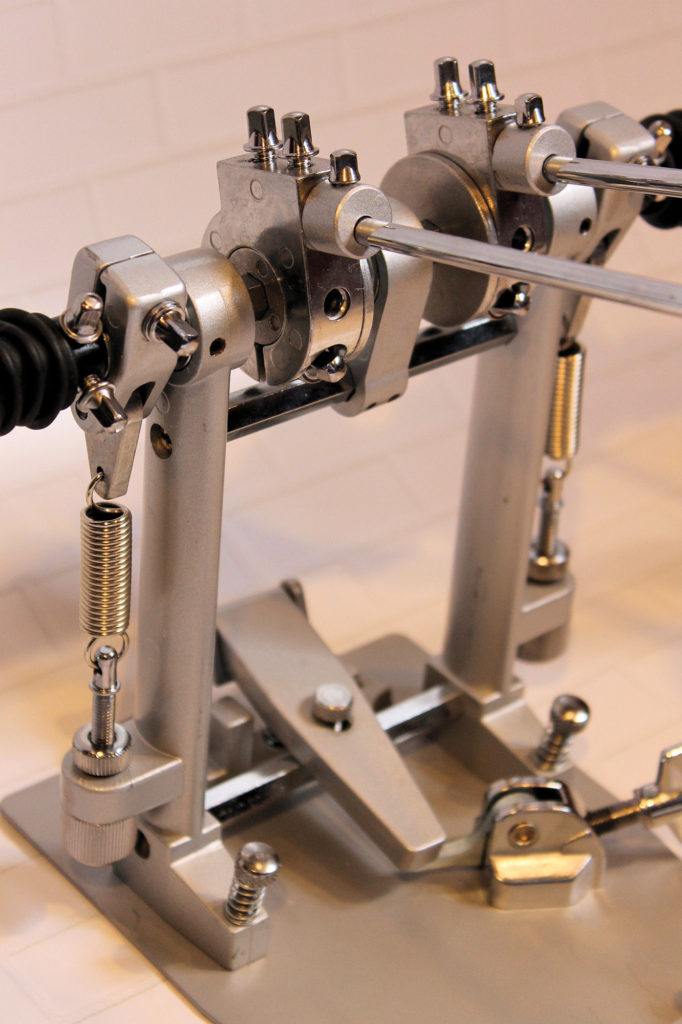 Quality and Customization
The Eclipse features the same top-quality specs that you'd expect from a high-end pedal. All moving parts have sealed bearings, and it's strong but lightweight. Despite having more moving parts than a standard double pedal, the Eclipse is fast and easy to set up due to its thoughtful design. I especially liked that the hoop clamp adjuster was easy to reach, since the footboard doesn't block it. The bottom of both footboards and the pedestal are fitted with hook-and-loop fasteners and adjustable spikes, so they lock into place easily. During my time with the Eclipse pedal, the footboards stayed put on any rough surface or carpet. Converting the chain drive to direct drive was quick and easy, and it was nice to be able to adjust the feel of the pedals for different applications.
The value of the Eclipse pedal is in its customization. Every component is adjustable. The footboards are 12.5×3.5, which is the largest in the industry, and they respond accurately to either heel-up or heel-down playing. The drive wheel can be adjusted via a drum key (there are key holders on the outside pedestal of both pedals) from 1.5″ for speed playing to 3″ for power playing.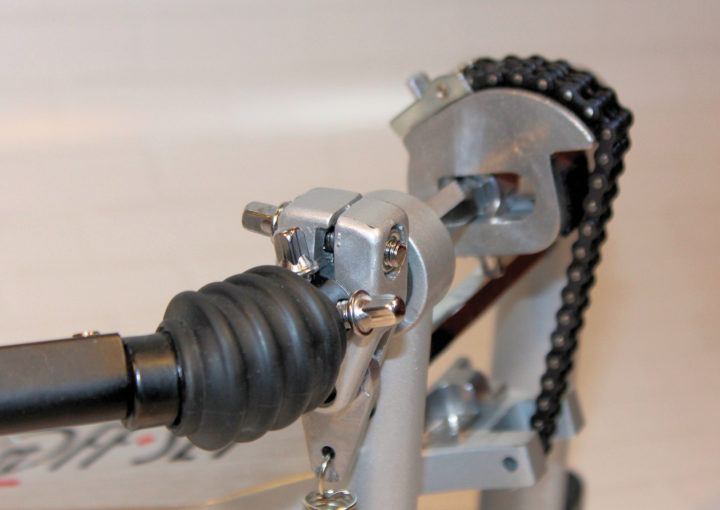 I tried all of the positions for the drive wheel and felt most comfortable with it at the midpoint, which left the beater at a moderate distance from the drumhead. If you're a speed metal player, you'll find the Eclipse comparable with other pedals marketed towards that genre. With the drive wheels set to the 1.5″ position, the pedals were extra responsive and snappy, which allowed for quicker playing. The long footboards also allowed me to move my foot lower on them when playing at fast tempos, and they were great for facilitating heel/toe techniques.
Functionality
This pedal is most useful for players who want to achieve a more ergonomic, symmetrical setup. If you prefer to mount your rack toms directly on the bass drum, the Eclipse will allow you to move the bass drum over so that the toms can be centered over the snare. After experimenting with the Eclipse pedal for a couple weeks, I noticed a slight improvement in my posture and ease of playing. It wasn't a huge difference for me, but other drummers may experience a more dramatic effect.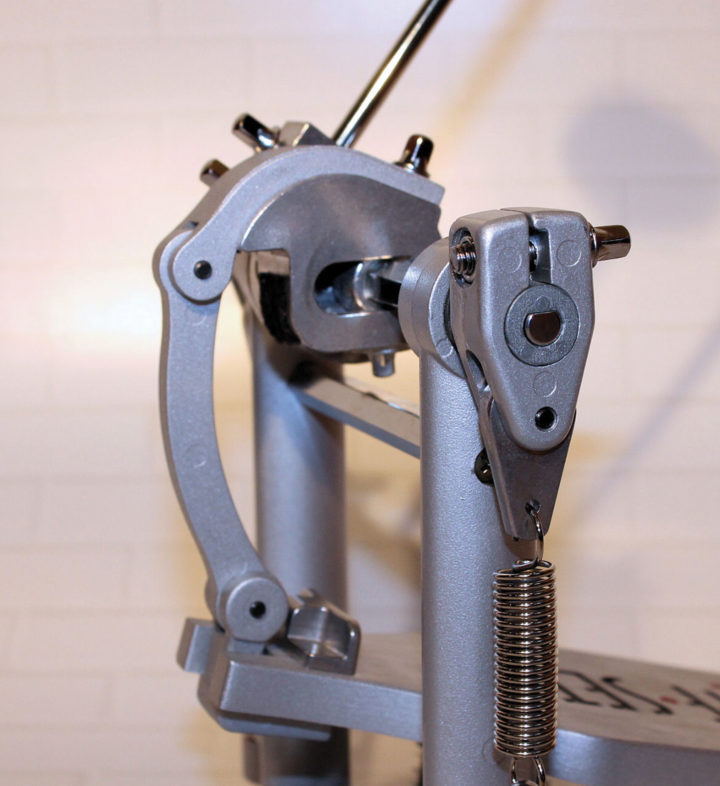 I found the OffSet Eclipse double pedal to be a refreshing example of drum-gear innovation. The company offers a thirty-day trial period for its products, so if you're looking to try something different, head over to offsetpedal.com to find a dealer near you. List price for the Eclipse pedal is $389, the direct-drive conversion kit is $69.95, and a padded case is $99.95.
DRUMmagazine, October 2015 review
Drum Magazine, April 28, 2012
BY JOHN NYMAN
From the wilds of Pennsylvania, U.S.A., comes Charles Fisher with his maverick new invention, the Off-Set double-bass pedal. Unlike your standard double-pedal footwear, the Off-Set does not have a main and a secondary footboard. Instead, the Off-Set's pedals are placed to the left and the right of the bass drum, thus allowing you to ergonomically configure your kit by planting your throne directly behind the kick. Granted, it looks a lot different from what you are used to playing, but I'll give you the skinny right here at the start: It's a pretty cool piece of gear made with some serious quality.
FINDING YOUR CENTER
I unboxed and set up the Off-Set with gleeful assistance from the owner of my local drum-rental company. First, take our advice, and follow the included instructions. We didn't, so set up became a little bit of a pain. The pedal might have worked straight out of the box, but we started tweaking it right away and got sort of … confused. Just contain yourself, and spend the few extra minutes getting it right.
After attaching the Off-Set's center frame to the bass drum hoop, we discovered that neither the left nor the right beater can be placed dead center on the drumhead. A support piece on the center frame precludes either beater from sliding into the fully centered position. On the plus side, this still allow for both beaters to hit symmetrical spots on the head — very barely off-center — and produce symmetrical tones.
DETAILS
The pedal itself is fully adjustable for tension, throw, pedal height, and beater height. The very nice double-faced beaters (felt and plastic) come complete with adjustable counterweights. The pedal also boasts a double-chain drive on a round cam, and there is Velcro on the bottom of all three base plates. (I must confess that I loathe Velcro on base plates. Is it just a fashion trend? Am I alone in this?) One of the advantages of the Off-Set system is that it reduces the amount of "push-pressure" on the bass drum. Your leg doesn't push the drum all around the floor, so as long as the pedal's base plate is secure, the bass drum nicely stays put.
Once up and thumpin', the Off-Set got really rave reviews from both me and Mr. Drum Rental. Between us, we've played quite a few pedals, and this is a good one. We think that the Off-Set's overall quality workmanship contributes to the fine feel of the pedal because there is absolutely no mushiness in the action. Both drive shafts are beefy, well-made, stiff, and even covered at the joints with rubber booties, like an automotive axle. Points for that. The pedals stayed put, Velcro and all, and they felt like two single pedals — very responsive and really tight (in the good way). Furthermore, the Off-Set has springs at the center frame and at each pedal. This thing is faster than you (yes, even you, Mr. Fleet-of-Feet) and not likely to fall apart on a gig. My friend did opine, however, that setting up the pedal for the first time (as in new-and-out-of-the- box) on a gig could be a nightmare because it takes some adjusting to get it where you want it.
DIGRESSION
Please do set the pedal up with a drum buddy around because the Off-Set — besides being fun to play — is a catalyst for long, lively arguments about drum history and ergonomics: Do you think the old jazz guys set up low and close because they liked it? Or was it because they had no other choice? If the remote hi-hat had been invented first, would we all be playing cross-handed? Didn't the invention of the boom cymbal stand allow you to put the cymbals closer to your center? Why do we continue to put toms on the bass drum when the bass drum is not the true center of our kit? How else can a drum set be more ergonomic? Will I be able to play better? These are just suggested topics for throwing the gauntlet. Don't forget the Band-Aids.
VERDICT
We were very, very impressed by the Off-Set pedal. It's bound to spark discussion, derision, and defense, but it's a quality piece of gear that works great. It's even priced well
DETAILS
Model: Off-Set Double-Bass Drum Pedal
Features: 12.5″ x 3.5″ footboards, fully adjustable double-drive chain, quad drive springs, antiskid spurs, adjustable beater holders, double-sided beaters
The Paradiddler on the Off-Set Double Bass Pedal
Drum Chat.com, October 18, 2010
Johnny G,
Top Dog (Don't mess wit me!)
I have been playing on my new Offset-double pedal for over a month now and couldn't be happier with my choice. Delivered to my door under $400!!
There's the short story. Now for the real info...
I was first taken with the heft of the components as I unpacked the box. There is almost no plastic on this thing. All the posts are solid steel with double horizontial supports.
I had to follow the instructions really freakin' carefully while assembling the first pedal but then it all made sense and I flew through the second one. From box to kick was under 15 minutes.
I started off by trying to match the right foot's feel to my old Yamaha pedal (that I had just retired after 28 years of solid service). That took the better part of about an hour and then I did some more fine tuning for about a week after. Haven't touched it since.
The left foot was not so simple. This is my first time playing double, so I had no idea what my left foot might need for settings. I matched the two pedals at first, but that didn't feel right. I have tried alot of different settings (alot) and find that my left foot wants a looser setting than my right. (That will probably change as I get used to this thing being there at all. The hardest thing to get used to is the idea that I suck at double bass drumming. It's a bigger challenge than I thought to learn a new technique after 33 years behind a single pedal kit.)
As I fiddled with these pedals, I absolutely marveled at the level of adjustability. With four springs to play with, seperate beater angles, pedal heights, cam position (turned out to be the most dramatic change in response and the magic "Ah-ha" for my right foot!), distance from the beaters to the pedal, and sliding beater weights, I cannot imagine anyone not being able to find a way to adjust this pedal to their liking. The beaters have a plastic and felt side for different attacks, too.
I checked out DW, Pearl, Mapex, Dixon, Axis, Tama, Sleishman, and Gibralter pedals. Some of them had as many adjustment options, but none of them had more, and most of them carried a considerably larger price tag. The Pearl double pedal goes for nearly twice as much as the Off-set! I played the Demon drive double pedal for about a half hour in the local shop and the Offset is just as smooth and solid feeling. It also happens to have really long and wide pedals with a sweet spot the size of Cleveland. (Yeah, Cleveland!)
The other factor that pushed me to the Off-set was the ergonomic changes it brought to my kit. As you can see in the pics, this thing puts you, your kick, and your snare in a nice straight line with hats and ride snuggled right up close and floor toms more accesible due to less twisting required to reach them. I have never felt this comfortable. If you go to the Off-set site, there is a great diagram that illustrates this even better. There are also single pedal versions of the pedal for either foot which has potential for changing the ergonomics of a single pedal kit or adding aux percussion, too.
The only way I could see this aspect as a down-side is if you put your toms on a stand next to your kick. You would need to either mount them on seperate stands on either side of the kick or get a rack to go over the kick.
My double pedal came with a HH stand as part of a promotional giveaway. I want to mention that this thing is a beast as well. It is the heaviest, most solid standing HH stand I have ever owned, which is saying something because, unlike my choice in kick pedals, I never could find a HH stand that I really liked, and could readily afford!! I think I have been through 6 or 7 of them before this one. It has a great tension adjustment that can make really fine changes to your HH response. The legs rotate to accomodate a double pedal quite nicely. If Mr Fisher is still offering them on the Offset site, I fully endorse them as well. They usually go for about $170, I think.
Speaking of Mr Fisher, he is the inventor and owner of the company and the man who answered the phone when I called with my insipid questions. He was patient and kind to me and went out of his way to make sure that I was well informed about this product since I could not try one before pulling the trigger. The product is fully guaranteed, but I will not be returning mine. This may be the last double pedal and HH stand that I buy ever. Unless I get another kit...

I hope this was helpful to someone out there. I hate to type!
Rockula reviews the OffSet Middle Pedal
Modern Drummer, November 2005 review