The OffSet™ Bilateral Bass Drum Pedal is designed by a drummer for the drummer's comfort, ergonomics and improved play. Standard double pedals have been around for decades without thought to the body symmetry in relation to the drum kit.
The absolute quality, design, ergonomics and customization of the OffSet™ Bilateral Pedal eclipses any double pedal available today.
Extremely ergonomic drummer-centering design.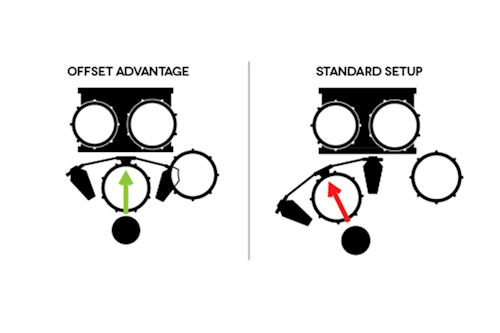 • This Pedal will NOT fall apart! Top quality, engineering, performance and craftsmanship to keep you at the top of your game!
• Backed by the OffSet 2-year Limited Warranty.
• In order to let you, the drummer try our product, we have a "Try Me" satisfaction guarantee.
• No Lag as seen with traditional longer slave rods.
• Rugged free–standing pedestal design with upper transverse beam and solid metal base plate for maximum strength and rigidity.
• Center ribbed base plate for maximum rigidity.
•Maximum friction bearing - loaded heel plate pedal board.
•Two 12.5" long x 3.5" wide foot pedals–largest in the industry- for either heel-up or heel-down techniques.
• Radius adjustable drive wheel - The only pedal in the industry on which the diameter of the drive wheel can be infinitely adjusted from 1.5" to 3" with only a drum key. This allows drummer to adjust the drive wheel from a speed cam to a power cam and anything in between.
• Spring shackle lugs thread into a locking nut keyed into the body of the shackle, totally eliminating the possibility of them stripping out.
• Fully adjustable concentric double chain drive.
•Quad drive springs for increased response and sensitivity.
• 7/16" Tempered U-joints with dust covers for long lasting life. (industry standard is 5/16" no covers)
•Spring-loaded anti-skid spurs and Industrial Strength Velcro on both pedal base and center beater housing for zero movement.
• Completely independently adjustable beater holders with 1" lateral adjustment each.
• Independently height-adjustable pedal boards.
• Hard-soft mallets with adjustable weights.
•Center-mounting, Swivel-foot hoop clamp which eliminates all lateral torque on the bass drum hoop.
• Twin drum key holders with drum keys.
• Bi-laterally symmetrical design creating a unit where both pedals can FEEL IDENTICAL.
• Prevents hip displacement and joint stresses caused by traditional placement of standard pedals.
• Extremely ergonomic drum-centering design.
• The OffSet™ is the only (patented) Bilaterial design available on the market.
• United States Patent # US 7,525,031 B2